Wabash Experiences Growth in Japanese Program Involvement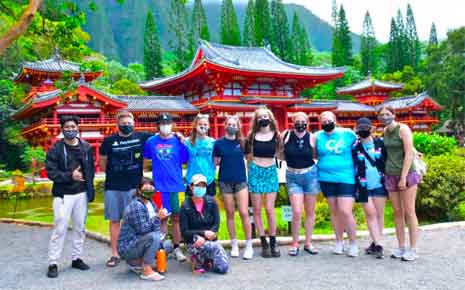 WABASH, IN – Wabash County continues to develop a strong relationship with the Japanese community by offering language and culture educational experiences in Wabash classrooms.
In 2018 and 2019, Wabash sent delegations to Japan to create and foster relationships with the Japanese communities. Since those visits, Wabash City Schools have hosted a group of exchange students from Japan as well as incorporate their language and culture into course offerings. The delegation hopes to return in 2022 to continue to build relationships and networks in Japan.
In the spring of 2020, Wabash County continued to foster a relationship with the Consulate General of Japan's office in Chicago who connected the school with the Japan Foundation. Through these connections, Wabash City Schools was able to start their Japanese Language Program.
The first year with the Japanese program at the high school contained 14 students in the classroom. This coming school year, the Japanese program has 50 students enrolled to this point, which is a 257% growth in one year.
"As a teacher who seeks to bring Japan and Indiana closer, I am thrilled to see the Japanese program at Wabash City Schools grow in size and interest. I am looking forward to continuing to help prepare the students of Wabash to become global citizens who continue to develop the deep ties between Japan and Indiana," said Japanese language teacher Mr. Bill Chittenden.
Wabash City Schools hopes to continue the Japanese exchange program in the future, if the pandemic allows, where students can take a two-week trip to Japan and experience the culture first-hand.
"The growth of the Japanese program has been incredible. We are excited to be the only district in the county to offer this program to our students. We look forward to continued collaboration with Japan as we work to provide global opportunities for our students," said superintendent Amy Sivley.
Wabash City Schools was nominated and selected to participate in the KAKEHASHI Project, part of the youth Exchange Program with North America promoted by the Ministry of Foreign Affairs of Japan (MOFA). Nine students and one chaperone will attend an eight-day exchange to Japan in 2022, funded by the Japan Foundation.
According to the IEDC, there are 318 Japanese-owned companies in Indiana. Grow Wabash County is also the lead organizer for the Japan-Northeast Indiana Summit in their fourth summit to be held in Wabash this year.
With the relationships built through the Consulate-General of Japan, Chicago and the Japan Foundation, Wabash County is looking forward to continue integrating Japanese language and culture into our growing communities.