Write a 2023 Business Plan for your Wabash County Business
National Write a Business Plan Month takes place in December! Business owners and entrepreneurs are encouraged to develop plans during this time in order to ensure a successful future for their businesses. Research by Harvard Business Review showed that it is 16 percent more likely for entrepreneurs who write out business plans to achieve viability than those who do not write out a plan.
Staying Organized with a Business Plan
A business plan is equivalent to a résumé of a company. The plan not only explains what your business does, but it also states the business objectives. Making and utilizing the plan can keep you focused on and engaged in growing your business. It is documented proof to potential investors and business partners that you are completely dedicated to the success of your company. To develop the plan, you will need to do market research and figure out financial projections so that you can eventually create strategies that lead to the advancement of your business.
Making a business plan can be beneficial in many ways including assisting in handling unanticipated issues and making reasonable business decisions. It is important to have a plan laid out to include with your business loan applications because the plan not only provides company information, but it also describes how you will make the money to pay the borrowed money back.
Steps in a Successful Business Plan
The following is a summary of what should be included in your business plan. Using this step-by-step process can make it easier to stay organized when writing your draft.
To start, you will need an introduction explaining the business and its objectives. The next section involves marketing and promotion of the products and services that your business offers. Then, we move into financial management. At some point in your plan, you will need to explain the daily business operations and how the business will be managed. Finally, your concluding statement should summarize your business goals and convey your commitment to making your business thrive. As your company changes from year to year, so should your business plan document.
You can also use this simplified eight-step Business Plan Tool. For more information on developing a solid business plan, you can take this self-paced online class on How to Write a Business Plan. This course will help you better understand each step of the plan while also providing you with quality resources and examples. Discover more free sample business plans for specific business categories at Bplans.com or review the SBA's guide on writing your business plan to learn more and view more business plan templates.
Grow Wabash County is Here to Help!
When your business plan is complete, be sure to review it with a colleague, your banker, or contact the team at Grow Wabash County who will happily connect you with one of our small business advisors. We stand ready to help you take your next great idea from your notebook through helping your new business grow right here in Wabash County.

More Topics
Wabash County, IN  – Grow Wabash County is excited to announce certification classes are starting strong in 2023 thanks to continued partnership with Freedom Academy, Ivy Tech Community College, and Besiege, LLC.  Certification training programs currently open for registration and that are slated to start in January 2023 details are...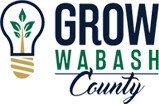 NOTICE is hereby given that the Redevelopment Commission for the City of Wabash, Indiana ("Commission") is offering for public sale real estate located at 55 West Water Street, Wabash, IN 46992 located in Wabash County, Indiana and which is more specifically described as follows: In Lots Numbered Twenty-one (21),...