2023 Salute to Ag Dinner celebrates farm families, local ag producers
Wabash County, IN – Grow Wabash County's 13th annual Salute to Ag Dinner on Wednesday, March 8, celebrated the many agricultural producers and farm families that have worked, grown and produced in Wabash County for decades.
Howard Halderman, chair of Grow Wabash County's Ag Committee, emceed the annual event, offering up bits of trivia throughout the evening about just how important Indiana is to agriculture not only locally, but on a global scale.
The event also celebrated the Bechtold Family, led by Bret and Michele Bechtold, as the 2022 Farm Family of the Year.
"It's a celebration of Wabash County's Agriculture Industry and it is a celebration of one our own producers," Halderman said during his remarks. "This evening we'll recognize our deserving Wabash County Farm Family of the Year, Bechtold Family Farms who are a fifth generation farm family here in the county since starting in 1918. This multi-generational family has a long tradition of both row crop and livestock production … In an age where some farm operations are corn and beans only, this list is impressive and strategic."
After Halderman's welcome remarks, Pastor Sebrena Cline from the Congregational Christian Church, delivered the invocation and dinner was served by Poole's Meat Market. Desserts were provided by Bailey's Pizza Parlor in Roann.
Following dinner, Polly Dobbs from Dobbs & Folz, LLC, took the stage as the night's keynote. She presented an entertaining and engaging talk about the importance of succession planning and what farmers can and should expect in terms of future tax code changes.
As is tradition, the evening's grand finale was a celebration of the Bechthold Family as the 2022 Farm Family of the Year which included a video showcasing the farm and a presentation of the Farm Family of the Year award, given to the family by Scott Haupert, whose farm family received the award in 2022.
We are thankful to all of the local companies and individuals that showed their support for this annual event by signing on as event sponsors.
Diamond sponsors for this event include: Bippus State Bank; Halderman Real Estate & Farm Management; Horizon Bank
Gold sponsors for this event include: Beacon Ag Group; Ceres Solutions Cooperative Inc.; CIE; Crossroads Bank; Farm Credit Mid-America; McKillip Seeds, Inc.; MPS Egg Farms; POET Bioprocessing; River Bend Farms; Wabash County Farm Bureau
Silver sponsors for this event include: Crop Fertility Specialists; Downard Development Strategies, LLC; First Farmers Bank & Trust; Frontline Pest Management; Hog Slat; Innovative Ag Technologies; The Paper of Wabash County; Pleasant Home Farm, Inc.; Regional Chamber of NE Indiana; Strauss Dairy Ingredients; Thorne Insurance; Wabash Energy Center
Bronze sponsors for this event include: Ayres Seeds; CFC Distributors; Eads & Sons Bulldozing; Friermood Tire & Alignment; TTG Equipment; Tulip Tree Title

More Topics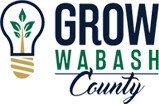 A coalition of states including Indiana, Illinois, Michigan and Wisconsin are competing for substantial federal funding in order to execute clean hydrogen production and use initiatives, supporting decarbonization, manufacturing, and community economic benefits in the region.Read the complete article from Indiana Economic Development Crop here. 
Wabash County, IN (MARCH 10, 2023) – Grow Wabash County is accepting applications for candidates to fill two new positions on the GWC team: Investor Services & Events Project Manager and Office Administrator.  Investor Services & Events Project Manager The two main roles for the Investor Service & Events...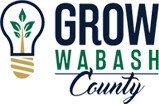 The Indiana Economic Development Corporation (IEDC) today announced a partnership with Independent Colleges of Indiana (ICI) to distribute $3 million to increase the recruitment and retention of engineering and nursing graduates across Indiana. The two organizations launched two new initiatives that will sustainably distribute the grant funding to graduates of...